Jane Iredale Mineral Cosmetics- The Skin Care Makeup
Your search for the best mineral cosmetics and natural makeup is over.  If you haven't heard of the jane iredale skin care line, it's time you learned more about these amazing beauty products—you won't regret it.
Why do we love the jane iredale natural line of mineral cosmetics so much?  We have more than one way to answer that.  Not only do the jane iredale mineral cosmetics produce beautiful results, but these mineral cosmetics help to clear up imperfections and skin issues — not just cover them up.
Highlighting the truth that "the most beautiful cosmetic you can wear is a healthy skin," everything that jane iredale develops is a true extension of skin care.  Not just a refinement of conventional makeup, jane iredale mineral cosmetics are the result of a new technology.
Here is an excerpt from the official jane iredale site that goes into some detailed benefits of this "The Skin Care Makeup."
Why Minerals

Known as The Skin Care Makeup, the jane iredale line is so safe and beneficial to use that it is recommended by plastic surgeons and dermatologists throughout the world.

Jane Iredale's Skin Care Makeup combines the most up-to-date colors with skin-care benefits that conventional makeups can only envy:

Non-comedogenic, will not block pores.
Virtually no allergy risk.
All products have been sensitivity tested.
Broad-spectrum UVB and UVA protection – up to SPF 30.  UVA tested at High.
Anti-inflammatory, helps to calm and soothe irritated skin.
Very water resistant rating by an FDA-approved lab.
Complete coverage for skin conditions like acne, rosacea and redness following treatments like chemical peels and laser resurfacing.
Contains no talc or parabens.
Composed of inert minerals that cannot support bacteria.
No products have been tested on animals.  Vegans click here for product information.

Jane's line is a highly-sophisticated blend of minerals and pigments that are micro-pulverized, using proprietary technology and processes to form microscopic flat particles. These particles overlap each other on the skin to form a filter that allows the skin to breathe and function normally while still protecting it from air-borne pollutants. The staying power of the minerals is so great that they rarely need a touch-up during the day. And because these silky-feeling powders are water resistant, they won't crease or smear even during the most strenuous exercise.

These state-of-the-art minerals are available in so many shades that there's one for every complexion no matter what the ethnicity.
So what types of mineral cosmetics does the jane iredale makeup line boast?  You can enjoy the wonderfully amazing benefits and results of:
Mineral Foundation– even the most sensitive skin can look and feel fabulous.  Added algae extracts help prevent moisture loss and protect against damage from UV Radiation.  Ultra water-resistant and formulated for a comfy, all day wear, your skin can breathe and be absolutely breathtaking at the same time!
Mineral Concealers– don't just cover up the problem, address it.  Beneficial botanicals address and correct both temporary imperfections (under eye circles, blemishes,) and longstanding skin concerns like rosacea or hyperpigmentation.  Offering unsurpassed coverage in feather-light textures and flattering shades means you'll be revealing instead of just concealing in no time at all!
Finishing Touches– mineral powders that keep beautiful skin in balance.  You can use these finishing powders under or over the base to control shine, set the minerals and deliver moisture, antioxidants and protection to the skin.  Revitalizing your complexion for a flawless finish — that's exactly what these mineral powders do!
Eye Shadow– your craving for long-lasting color is satisfied.  Highly pigmented powders are effortless to blend, sensitivity-tested, and sure to stay put.  These eye shadows work simultaneously to care for and nourish the sensitive eye area.  A wide selection of on-trend shades will enhance and brighten every eye, regardless of eye shape or color.
Eyeliners– from buttery soft eye pencils to a decadent range of liquid and cream-to-powder eye liners, you'll fall for the saturated color and unparalleled staying power of these mineral eye liners – all without the use of irritating chemicals!
Eye Brows– frame your lovely face and keep unwanted things from falling into your eyes.  Show those brows some love with jane iredale's PureBrow™ and Super-Shape Me™ lines.  They protect, sculpt and enhance even the most unruly eye brows for a put-together-look that Mother Nature would approve of.
Eyelashes & Mascara– a must for any makeup bag.  Innovative formulas treat lashes to fabulous color and decadent benefits.  Sea minerals encourage lashes to grow to their full potential, while triple-length cellulose fibers indulge lashes in rich color with unbeatable staying power.  Free of lacquers, shellac and petroleum-based products, these mild and conditioning formulas rejuvenate the youth and vitality of even the most sensitive lashes.
Blushes & Bronzers– you love the sun, but you're not so crazy about the aging effects it has on your skin.  From sophisticated bronzers to addictive cream blushes and luxurious 24-Karat gold dust, it's easy to capture a sun-kissed look without ever catching a ray.  Learn more about Tantasia self tanner and bronzer by jane iredale.  Here are some more healthy (and amazing) benefits of jane iredale's sunless tanning lotion.
Lips – forget about diamonds – the right lip product is a girl's best friend.  Ultra-decadent liposome formulas, lip glosses and incredible lip plumpers deliver color, protection and long-lasting performance, along with major TLC!  All-natural botanical stimulants and pro-active peptides are just a few of the ingredients jane iredale uses to keep lips supple, soft and smoochable.
Now that you're a little more aware about what kinds of mineral makeup products jane iredale carries, you can see which beauty and skin care products you want to try first.  They're all so lovely (and beneficial)!  If you have any questions about jane iredale mineral cosmetics, please contact Richard Francis Salon or The Spa, or stop by for a visit. We're more than happy to help you find the perfect skin care makeup for you!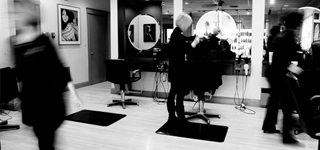 Richard Francis Salon & Spa
blog categories