Every month, Richard Francis Salon & Spa offers special treatments for clients to enjoy so they can truly love the way they look and feel. For the month of January, we have some extra special spa services for you and your loved ones!
Step into 2012 looking and feeling totally rejuvenated, completely beautiful and totally radiant. It's our way of saying "Thank You" for your support and friendship in 2011. Enjoy these special pampering treatments!
Featured Product of the Month- G.M. Collin Discovery Kits

G.M. Collin Discovery Kits for Oily, Normal and Sensitive Skin- something every skin type can love!  These travel approved kits comes with a G.M. Collin cleanser, treating lotion and moisturizer.  If you've never experienced the radiant beauty of G.M. Collin, this is a great way to be introduced to the skin care line!

*Regularly $37.00, for the  month of January this value is now $32.00*

Because these kits do sell out so quickly, we will be taking special orders throughout January and will honor the value price! Call us today to order your G.M. Collin Discovery Kit!

G.M. Collin products are derived from natural plant and marine extracts and are developed to achieve visible results and recapture your true, natural radiance with the help of modern technology. G.M. Collin's skin care line is formulated with only the highest quality actives to promote your skin's radiance and beauty.

Clarisonic Cleansing Facial

This new facial is an outstanding way to experience the new Clarisonic Cleansing tool known as the "Mia" or the "Opal."  This facial will leave your skin smoother, healthier looking and more receptive to skin care treatments and products.  See all the benefits of Clarisonic. Experience this unique facial throughout the month of January!

*Clarisonic Cleansing Facial – special price of $75.00 for the month of January*

Replenish and renew in the New Year with a Clarisonic Cleansing Facial. Call us to book your rejuvenating facial today!

Wax Off Wednesdays

For all our salon clients with an appointment on Wednesdays — any type of waxing services is 1/2 price on Wednesdays too!

Whether you need a brow, lip or leg wax, now you have a fantastic excuse to get pampered with that hair removal service you've been craving. Take a look at all of our hair removal services at The Spa.

We're offering our waxing services for a special price to compliment your Wednesday hair appointment… so be sure to book both your hair and waxing appointments when calling!
We welcome you to come experience some special pampering this month — you will love your visit!
If you have any questions at all about the G.M. Collin Discovery Kit, the Clarisonic Cleansing Facial, Wax Off Wednesdays special, or any of our Salon or Spa services, please contact us at Richard Francis Salon or The Spa and we will be happy to help you.
See all of our current monthly specials, and learn more about what other salon services and spa services we offer clients… you may just find that we have exactly what you've been craving!
To beauty, health, peace, happiness and prosperity in the New Year. Happy 2012!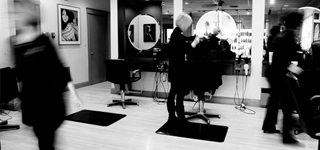 Richard Francis Salon & Spa
blog categories