The Connection Between Face Shapes and Hairstyles
Believe it or not, there is a connection between face shapes and hairstyles. The shape of your face should be a determinant in what hairstyle you choose for the best results. The first thing you should do before even looking at which hairstyle you want is to determine your face shape.
How to Determine Your Face Shape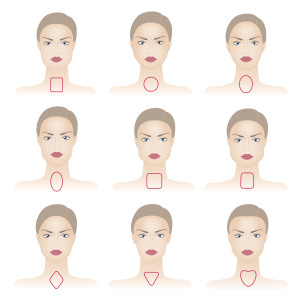 Square: If you have a square shaped face, then you have a prominent jawline and your face is about the same height and width.
Round: If you have a round face, then your face is widest at the cheekbones, and your jawline is round and full.
Oval: If you have an oval face, then your face is widest at the cheekbones and you have a tapered, narrow jawline.
Oblong: If you have an oblong face, then it is longer than it is wide, like a rectangle. Your jawline is rounded.
Diamond: If you have a diamond-shaped face, your face is slightly longer than it is wide. You have a pointy chin and high set cheekbones are the widest part of your face.
Heart-shaped: If your face is heart-shaped, it is widest at the forehead, full at the cheekbones, and narrow at the chin.
Choosing the Best Hairstyle:
Square: If you have a square face, then you should try to soften your strong features. This means avoiding blunt cuts that will accentuate your jaw–instead opt for side-swept bangs. Also, it is recommended that you wear your hair extra long–either slick straight, wavy, or curly. If you do not like the idea of long hair, then choose a soft-layered bob.
Round: The goal is to pick a hairstyle that will slenderize your face. For example, opt for long layered hair with layered bangs, or a graduated shag. Also, remember that volume at your crown, from curls or layers, lengthens your face.
Oval: If you have an oval-shaped face, you can wear almost any hairstyle. Instead of focusing on the shape of your face, focus on specific features. For example, get bangs to cover a large forehead or choose to get face-framing layers to soften your cheekbones.
Oblong: Make sure that you stay away from bobs, because you do not want to draw attention to your strong jawline. Instead, choose a hairstyle that is above or below your chin, and choose styles with layers at the ear and cheekbones. Also, oblong faces are one of the only face shapes that can pull off blunt bangs.
Diamond: You definitely need to pick the right hairstyle to show off your fabulous bone structure. It is recommended that you choose a classic bob or a flipped out layer cut. If you want to get bangs, make sure that they're below the brow; anything above the brow is unflattering for your face shape.
Heart-Shaped: Unlike a round face, you want to avoid height at the crown because it will direct attention to your forehead. Instead pick a style that accentuates your cheekbones without hiding your chin. For example, a chin length (or longer) bob with tapered ends, as well as side-swept, wispy bangs, will look great with your face shape.
A great idea when it comes to choosing the perfect haircut for your face shape is to look up celebrities that have the same shape as you and see what hairstyles they are wearing. Of course, the first step is to determine what your face shape is, and this might be the hardest part. Here at Richard Francis Salon and Spa, in Ashland, MA, we would love to have the opportunity to give you your dream haircut. Our experienced stylists can help you identify the shape of your face and give recommendations on what hairstyle is perfect for you. Contact Richard Francis Salon to make an appointment with one of our talented stylists today!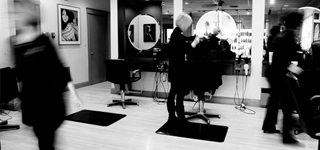 Richard Francis Salon & Spa
blog categories