Photo-Ready Bridal Makeup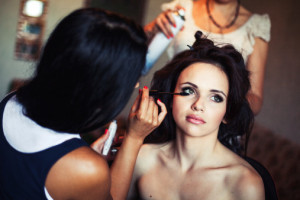 Memories may fade, but photos are forever! And the photos that literally last forever? Your wedding photos.
You can't relive your wedding, so get it right the first time! Use the following tips and tricks to look flawless in your wedding photos, and never regret a moment!
Start With Healthy Skin
Hydrated, healthy skin looks best in photos! Whatever you do, don't try out a new scrub or moisturizer the night before your big day! If you are looking to experiment with new products or services, (such as waxing or facials) try it out at least 2 months before your wedding in case your skin doesn't agree with you!
Don't Reflect Light!
You may feel like you are glowing on your wedding day, but you don't want to literally glow. Always use matte or semi-matte makeup. Any kind of shimmer or shine will reflect light away from you face, making you look oily. The same goes for sunscreens. Of course, sunscreen is one of the best things you can do for your skin, but it is designed to reflect light away from your face, whether that be harsh sunlight or a photographer's flash.
Brighter is Better!
A flash from a camera can reflect light away from you face, but also make you appear very washed out if you are not careful. The harsh light can strip color from you face. To keep this from happening, go with a brighter shade of pink or red when choosing your blush or lipstick.
Blend Your Colors Properly
Light concealer is great for brightening your face, but if it doesn't blend in with the rest of your face, it will be very noticeable and you may end up looking like a raccoon! To prevent this, blend your concealer and foundation, making sure that they are similar in shade. Also, remember that your face, neck, and chest will be different colors. The colors can change throughout the year depending on how much sun you have gotten! Start by matching your foundation to your neck, and blend it into your face, neck, and chest. When all is said and done, set your makeup with a super-fine matte powder.
Contour
Contouring on a daily basis is for many of us, an impossible feat. However, contouring on your wedding day is well worth the effort! It will help to add back the definition that can get lost in a photo
Emphasize
Emphasize your eyes, but don't overdo it! Pass on the smoky eye, as it can easily venture into raccoon territory if you aren't careful. Use a lengthening, water-proof mascara, or opt for false lashes, which will help make your eyes pop in photos without looking overdone.
The key to photo ready bridal makeup is balance. You would hate to look back on your photos and realize that you applied too much blush, or that your eyes are too dark, so much so that they distract from the rest of your face. Keep everything matte, and stray away from anything that could reflect light away from your face, as this can come off in photos as being shiny. Last but not least, always keep blotting paper on hand throughout your big day!
To learn more about makeup, read our blog for makeup and hair ideas before your big day! Remember, we can assist with all of your wedding day beauty needs! From waxing to facials, makeup and hair, The Spa at Richard Francis is here to help! We promise to make your look beautiful on your wedding day!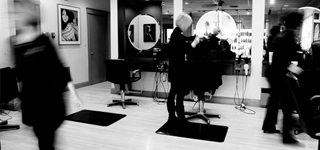 Richard Francis Salon & Spa
blog categories