Pamper Yourself and See the Benefits of Facials
A little pampering never hurts, so why not treat yourself to a facial?  Besides being a great way to alleviate stress, facials provide many benefits. Facials are great for your skin and will help you maintain a good complexion. There are a variety of types of facials that can be tailored to you and your skin type so that you see even greater benefits from your facial.
Some people are unaware of all the true benefits of facials, so we want to try and de-mystify them for you.  Like with any skin care treatment, the results of a facial depend on your skin type and the type of facial treatment you receive.  Also, just because one type of facial treatment did not give you the results you wanted does not mean that the facial treatment cannot be tweaked to work wonders for you.
Here is some more information about the benefits of facials from EHow.com that will educate you on facials and how they can really make your skin glow.
Facial Benefits Medical

By Brandi Laren, eHow Contributor

Facials are skin treatments for the face, generally given by licensed estheticians, that maintain and improve the quality of the skin. Facials tend to include an analysis of the skin, followed by a series of cleansing methods of the skin, exfoliation, a facial massage, steam and a cream or moisturizer.
While facials have a variety of benefits for the skin on the face, there are also many health benefits as well. Read on to find out more about the health benefits of a facial.

Significance

According to the New Life Journal's "A Facial it's More Than Meets the Eye" by Julie Pagano, facials regulate the immune system, aid in detoxification, reduce the amount of fluid that has built up in the body, and aid in stress relief when it includes "aromatherapy, lymphatic drainage, exfoliation treatments and acupuncture." Lymphatic drainage helps release toxins that have built up in the body.

Types: Benefits of Facial Massages in Facials

Facials typically involve massages. These massages aid in blood circulation. Massages during facials also help with lymphatic drainage, and aid in the relaxation of the facial muscles which can slow the onset of wrinkles in the face. Skin cells can also be renewed by using this technique, which can also reduce puffiness and sagging in the face.

Function

When a person is struggling with acne, suffering from a dull complexion, or facing a superficial skin issue, regular facials can help fix these problems. Facials can give a person a clean and bright complexion, as well as remove dirt and blackheads. Paraffin facials which penetrate deep into the skin, have anti-aging benefits, too. Additionally, when a face mask is applied to the skin during a facial, it helps tone and clarify the skin.

Types of Facials and Benefits

There are a variety of facials that can provide many health benefits. Anti-oxidant facials contain free-radical fighting nutrients such as Vitamins A and E, which help remove pollutants from the body. Collagen facials use warm vapor, deep pore cleansing, and lymphatic draining massages, which benefit the skin by preventing wrinkles, reducing dark circles and ridding the body of environmental toxins.

Benefits of Gold Facials, Aromatherapy Facials and Galvanic Facials

According to Beauticians on Net, aromatherapy facials use oils that have curative properties that relax the body, clear congestion in the skin, eliminate toxins, rejuvenate the skin and improve the skin's functions. Benefits of gold facials include lymphatic drainage, removing toxins from the body, regenerating new cells, and improving the elasticity and smoothness of the skin through the use of 24 carat gold. Galvanic facials use a gadget called a galvanic tool which also removes congestion in the skin and helps the skin retain moisture.
As you can see, there are benefits to facials that go beyond just clear skin.  A facial can help with circulation, muscle relaxation, as well as provide aroma therapy benefits… just to name a few facial benefits.
Getting a facial can be even more fun if you go with others! You can easily make getting a facial a girls' day or a mother-daughter spa day, and you can enjoy the pampering benefits of facials with friends and family for a truly wonderful experience.  That is not to say that facials are for women only. Men, don't shy away: you want to have great looking skin too, right? More and more men are realizing that the benefits of facials extend beyond the female population, because facials are really for everyone!
We encourage you to get a facial at The Spa at Richard Francis, and see (and feel) the true benefits of facials. Whether it's your first facial or you're a seasoned facial-getter, everyone can benefit from a great facial.  We all deserve a little pampering!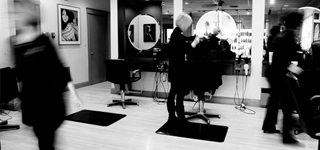 Richard Francis Salon & Spa
blog categories