How to Get a Natural Makeup Look
When putting on make-up for the day, most people strive for a natural look that enhances their best features without looking too dramatic. Having a "caked-on" look isn't appealing, so here are some tips on how to look all-natural.

Clean Your Face

Before you start to apply any makeup, you need to make sure that you have cleaned your face. Makeup will stick better to a clean face than a dirty one. After you have washed your face, you should also apply moisturizer to give a natural shine to your face and to keep the skin healthy. When applying moisturizer, you should only use an unscented one, because the scents in lotion can agitate your skin and create pimples.
Foundation
There are a few options when it comes to foundation. When you are applying your moisturizer, you can use a tinted one that will give you a light coverage that blends well, since it is a mixture of moisturizer and foundation. Aside from a tinted moisture, there are two other basic foundation options: liquid and powder. Both can be used to give a natural look, but they must be used in different ways. If you are to choose a liquid foundation, you shouldn't apply the same amount over your whole face. Apply more generously in places that tend to get red during the day, such as under your eyes, around your nose, on your chin and on your forehead. Stipple the rest of your face to simply blend the foundation together. When applying, you should use your ring finger or a brush to blot it in and lightly smooth it into your skin.
If you choose powder foundation, this should be applied with a large brush. You can dab the brush into the foundation and lightly apply it to your face. When applying it, you should move the brush in circles and should go all around your face. If you find that you have more of an oily skin, this option may be better for you because the powder will dry out the oily places on your face. However, powder does not cover up uneven skin tone or blemishes as well as liquid foundation.
When choosing your foundation color, make sure that it matches the skin color on your neck. The neck is the best place to compare color because it tends to be more natural since it doesn't see as much of the sun as your face does.
Blush
By smiling, you can find the "apples" of your cheeks, and this is where you should apply your blush. Only apply a small amount and make sure to blend it in well. You can add some to your forehead and jawline to blend it better into your face.
Eyes
To obtain a natural look in your eyes, apply a small line of liquid eyeliner along your top lid. Try to keep it thin and right along the edge of your lid up to your eyelashes. Next, curl your eyelashes and apply a thorough coating of mascara to your lashes. These small steps will accentuate your eyes, but it won't necessarily stand out enough that people realize you're wearing make-up.
Lips
The last step is to find a lipstick or lip gloss that is only one shade brighter than your natural lip color. You want to find one shade brighter because it should brighten your lips without it being too noticeable. You can also use a lipstick as the base coat and then add lip gloss on top to add a little shine if you can't choose between lipstick and lip gloss.
By following these few tips, you can achieve a natural look that will have you glowing without looking over-done. If you find that you have any questions or want an opinion, feel free to contact or stop into the Richard Francis Salon located in Ashland, MA. Our stylists and make-up artists would be happy to help apply make-up as well as offer a couple of extra.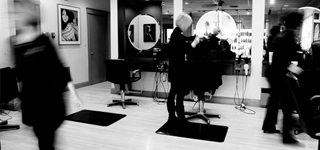 Richard Francis Salon & Spa
blog categories