Cheers to 30 Years of Hair!
When Richard Francis Salon opened up in 1985 we had one goal in mind, to make people look and feel good. 30 years later and we are still fulfilling that passion! Throughout the last 30 years, styles and trends have changed dramatically, and we have strived to stay up-to-date on the latest and trendiest styles for our customers. To celebrate 30 years of business, we are taking a blast to the past, and looking at the last 30 years of hair trends and styles!
1980s – Bigger is always better.
As the 1980's rolled in hair got bigger and flashier. Eighties hair ranged from high maintenance – big, sprayed, curled, teased, poofed, and highlighted, to something a little easier to manage like the wash 'n leave perm or a side ponytail with a colorful scrunchie. Hairspray took over diamonds spot as a girl's best friend. This era unfortunately saw the popularity of the mullet haircut; one style we hope never reemerges. Madonna and Cyndi Lauper were huge style inspirations to many women at the time. Women were looking for wild hair styles to complement their colorful and unconventional clothing.
1990s – Sleek & chic.
As the 90's approached hairstyles went in the complete opposite direction. Women were looking for hair styles that were more sexy and natural looking. Hair was sleek and framed the face, and choppy layers with volume were all the rage. Spiky bobs and pixie cuts also made an appearance during this decade. In 1995, Jennifer Aniston skyrocketed to fame through her character Rachel in the extremely popular sitcom, Friends. Women everywhere bombarded salons to get the now infamous and most iconic hairstyle ever the "Rachel cut". Oh, and we can't forget the frosted tips or "dude ombre" that boy-band sensations like Justin Timberlake rocked, starting a massive trend in this decade.
2000s – Reliving the past.
As the new millennium turned, hairstyles surprisingly didn't.  Sleek hair was still the go to look.  However, never before had there been so many hair styles of the past revisited and updated. Everything from finger waves to bobs to pixies to shags, the 2000's seemed like a collaboration of everyone's favorite styles from the past.  Britney Spears and Christina Aguilera were big style inspirations at this time. Women were experimenting with color, from an all-over pastel, to brightly colored tips and chunky highlights. They also opted for side bangs over full bangs, which were easily bobby-pinned back to create the iconic "mini-poof".
2010s – I woke up like this.
Effortlessly chic; well at least that's what women want their hair to say. Curls are loose and tousled, giving the look of natural, effortless hair. Color is also embracing the natural beauty trend. From sun-kissed, sandy blondes, to rich and multi-tonal browns, women are looking for hair color that gives an organic feel. Highlights have shifted from chunky and bold to a more subtle ombre or balayage highlight. Women aren't going for the most outrageous or extreme hairstyles and instead are looking for styles that are flattering to their face shape and hair type.
Hairstyles have gone through some major changes throughout the last 30 years, and we are proud to have been a part of these many decades of hair transformations. Here's to 30 more years of keeping up with the trendiest styles and making our customers look and feel great.  Come celebrate 30 years of hair with us at The Richard Francis Salon, February 17- February 21st. We will be offering some great specials and would love to give you a new trendy style!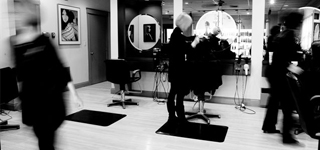 Richard Francis Salon & Spa
blog categories