Tips and Tricks for Great Prom Hair
Spring has sprung, and so has prom season! You have picked out your dress, but how will you style your hair? Nothing completes your look better than great hair. With a few of these tips and tricks, you will turn heads on prom night.
Vintage
We can all take a page from Taylor's book when it comes to rocking vintage glam hairstyles. Beautiful twists and low buns make this look iconic. Don't forget to keep it loose! A volumizing powder will add texture, and create abundant volume that will bring this style over the top!
Princess Poof
Want to look like royalty on prom night? No trouble there! This look is both slick and effortlessly beautiful. A little teasing at the front creates a subtle pompadour, which leads into a large, smooth bun at your crown. Looking for a real crown? A thin braid around the bun is subtle enough, or add your own bling. You'll surely be treated like royalty with this look!
Woodland Goddess
Combine the vintage and princess look into one! This natural-looking style combines elements of both looks. The loose, textured waves are not overdone with this style. A great curl controller adds volume and lengthens your curls, all while combating frizz.  Twists of hair and braids wrap around your head, creating a multi-layer crown. If you are looking for an added pop, twist your hair into a waterfall braid around the base. Top it off with a flower crown, and you will be as beautiful as a woodland fairy!
Braids, Braids, Braids!
There is nothing more classic than a great braid! What is even better is that there are virtually endless ways to style them! From classic French braids to fun and loose fishtails, braids add beauty and texture to otherwise simple hairstyles.
Prepping for an Updo
It is tempting to wash your hair just before having it styled into a beautiful updo. However, washing your hair too soon before having it done can be counterproductive, and not washing it at all can create challenges as well. After you schedule your hair appointment, think about your hair's thickness, and how oily or dry it is. If you have thick or dry hair, wash it 24 hours before enter the salon. If your hair is oily or thin, consider washing sooner, such as the night before your morning appointment or early in the morning if your appointment is in the afternoon. As tempting as it is to wash, keep in mind that your hair has natural oils that will help to hold your style in place all night long!
Half of the excitement of prom is in the prep! For more prom hair tips and tricks, be sure to visit Richard Francis Salon and Spa in Ashland, MA. We promise to help you look beautiful on prom night. Book your hair and makeup appointment today!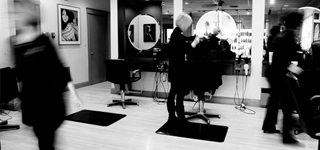 Richard Francis Salon & Spa
blog categories